2018 Review
I had a baby and moved to Atlanta.
This year's review will focus less on lists of media/events and more on how I'm feeling about all my big life events. Here are my reviews from 2017, 2016, and 2015. for comparison.
Life Events
I had a baby!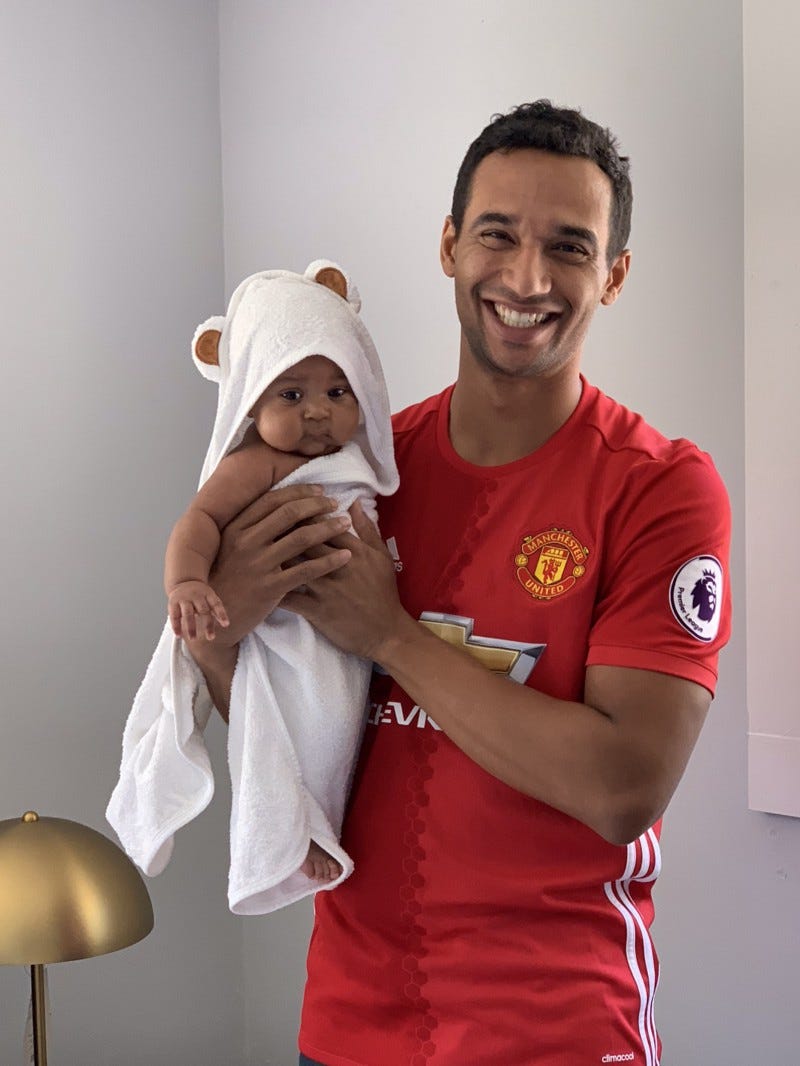 Having a child is the most incredible and impactful thing that's ever happened to me. My daughter has made me rethink every priority in my life and given me new meaning. I'm still shocked that my wife and I created a human being who exists in this world with a personality, value, and purpose all her own.
My wife had a particularly difficult pregnancy (hyperemesis gravidarum, fibroids, breech etc), a challenging labor (failed induction), and a few post-partum complications (preeclampsia). As a result, 2018 was pretty stressful and we did our best to get by while preparing to raise a baby and move (more on that below). But we connected in new ways and developed a deeper, more meaningful understanding of our relationship. I hate that my wife suffered so much but I'm grateful I was able to be there for her and that a foundation of love and support was present when our daughter came into the world. Helping my wife in the delivery room and being with my daughter during her first few hours of life in the NICU was an intense spiritual experience for me.
Having my daughter has also made me reevaluate almost every priority in my life. I stopped playing soccer in June so I wouldn't get injured before my daughter's due date, I was far less social than usual since a lot of my free time was spent at home taking care of my wife, and we traveled less this year (you can only ask a sick pregnant woman to sit on a plane for so many hours). I feel like I'm doing a pretty good job getting balance back into my life but staying connected with friends is a new challenge now that we've moved.
I moved to Atlanta.
My wife and I moved from Oakland to Atlanta this year to be closer to her family as we raise our daughter. My family's spread out across the country, but my wife's cousins, sisters, parents, aunts, grandma, and great-aunts all live near Atlanta (with her dad's side of the family nearby in Louisiana). My wife has wanted to move back to Atlanta for some time, but this was a big deal for me. At no point in my life have I ever said: "I think I'd like to move to Atlanta someday!" I've been in the Bay Area for almost ten years and it's the best place in the country for working in tech. But as I mentioned above, my daughter's arrival caused me to reconsider every priority in my life. As my wife and I discussed this more, the move became a no-brainer from a financial and social perspective. Perks of being in Atlanta include:
My mother-in-law is our full-time nanny. Compare that to paying for full-time daycare in the Bay!
Cost of living, in general, is much lower. We were able to buy a house we can raise a family in for well under $1M.
Family is able to stop by our house every week which provides a support network that actually makes it easier for me to do things like work travel.
We are able to raise our daughter in a city with a thriving black population, which is not possible in most parts of the country. This was important to me thinking about my own upbringing around few black people in Arizona.
I'm starting to really like Atlanta!
I started a new job.
I started a new job in December. I was doing well at Pinterest and optimistic about the company's long-term prospects but I was moving to a new city so needed a new gig. I'm now the VP Growth at Finix. It's a perfect job for me.
I got into grad school.
I was accepted into Georgia Tech's Online Masters of Science in Computer Science (OSMCS). It's a remote, part-time, fully-accredited master's program. So, I had a baby, bought a house, moved cities, and changed jobs over the course of 5 months. You could argue all of those changes were related given how my wife and I wanted to raise our daughter (i.e. near family). But why in god's name would I want to add this on top? Well here's my logic:
My undergrad degree in electrical engineering has been incredibly useful in my career despite the fact I don't practice electrical engineering for a living. I wanted to re-up my technical understanding and believe Artificial Intelligence will be the most significant technology of the next 100 years (honorable mention: synthetic/programmable biology).
I spent a fair amount of time with the computer vision team at Pinterest and found myself unable to keep up during technical conversations in ways that don't usually happen when I work with engineers.
I'm a new dad and just moved to a city where I have one friend and a few acquaintances. As a result, I don't have much of a social life for this degree to cut into.
The downside is low (I withdraw or defer until I can find balance), the cost is low (~$7K) but the upside is considerable.
**Update**: I decided to drop my master's program until at least Fall 2019. I tore my Achilles (more on that below) and since my degree isn't urgent, my wife and I have decided to prioritize my recovery and her PhD.
Media
Albums
Con Todo el Mundo by Khruangbin
FM! by Vince Staples
Books
Boy, Snow, Bird (Helen Oyeyemi)
Tycoons (Charles R. Morris)
Seveneves (Neal Stephenson) 🔥
Lovecraft Country (Matt Ruff)
Graphic Novels
Saga Volume 8 (Brian K. Vaughan, Fiona Staples)
Longform Articles
Own Goal: The Inside Story of How the USMNT Missed the 2018 World Cup (The Ringer, June 2018)
Extensive Data Shows Punishing Reach of Racism for Black Boys (New York Times, March 2018) 🔥
Dollar Stores Are Targeting Struggling Urban Neighborhoods and Small Towns. One Community Is Showing How to Fight Back (Institute for Self-Reliance, December 2018)
Events
Concerts
Talib Kweli (The Independent, SF)
Oddisee (1015 Folsom, SF)
LCD Soundsystem + TV On The Radio (The Greek Theater, Berkeley)
Oh Wonder (August Hall, SF)
Robert Glasper (SF Jazz Center)
Dirty Bird BBQ (Middle Harbor Shoreline Park, Oakland)
Talks
Nikole Hannah-Jones (Nourse Theater, SF)
Stacey Abrams (Commonwealth Club, SF)
Health
Soccer
I played 18 hours of soccer in 2018. Less than half of what I'd been doing the past few years. I made the decision to stop playing soccer in the summer of 2018 so I wouldn't get seriously injured before my daughter was born. Well, in January 2019, I started to play pick-up a few nights a week after my 6-month hiatus and ended up tearing my Achilles tendon. This is part of the reason I'm publishing this post late. It's a huge bummer and will be a 4 to 6-month recovery. I've got a stabilization boot and crutches so my ability to help out around the house and take care of my daughter is reduced. In fact, I need a lot of help myself. Luckily, my wife is amazing and is picking up some of my slack. Very grateful to her!
This is also making me rethink my identity as a soccer player. There's no real reason for me to attempt to play high levels of soccer again but I'm still young and competitive so have been giving thought to new sports I can take up to stay in shape and have fun. I'm thinking about doing a half-marathon in October if my recovery is going really well. But I LOVE soccer so this injury has been pretty tough for me. My goal right now is to be able to walk before my daughter does.
Drinking
I basically don't drink anymore. I've probably had 6 oz of alcohol since September 4th, 2017. The only thing being sober negatively impacts is my ability to stay out late, especially around others who are drinking, but who has the time to do that anymore?
Coffee
For most of 2018, I had a subscription to Ritual Roasters. It was a wedding gift from my friend Leslie who was previously head roaster at Ritual. I loved the convenience of getting great coffee in the mail. I also love to buy local coffee when I travel. Once my Ritual subscription ended I was looking for a new subscription service and found Trade Coffee. I was a bit skeptical at first–I assumed a lot of the roasters wouldn't be very good. I was wrong and three months into my subscription, I'm a huge fan!
Travel
tl;dr: I took 11 trips to 7 states and 8 cities in 2018.
Trips
Atlanta, GA 3x
Tucson, AZ
Seattle, WA
Sea Ranch, CA
Las Vegas, NV
Indianapolis, IN
San Francisco/Oakland, CA
Cincinnati, OH
Backpacking
I did a 5-day backcountry trip in Shasta-Trinity National Forest with three friends last year–right near where the Carr Fire started only a few months later. The trails were in bad shape so we ended up just hanging out at a single campsite for a few days instead of packing on more miles each day. It was a different type of backcountry experience for me but I really enjoyed it.
Happy 2019!