2019 Review
I tore my Achilles and my wife finished her PhD.
I'm publishing this one MAD late, but with all that's going on right now (the COVID-19 pandemic and all), I thought it would be therapeutic to take a step back, reflect on all that happened in 2019, and finally publish this, my fifth end of year review!
Here are my reviews from the past few years: 2018, 2017, 2016, 2015.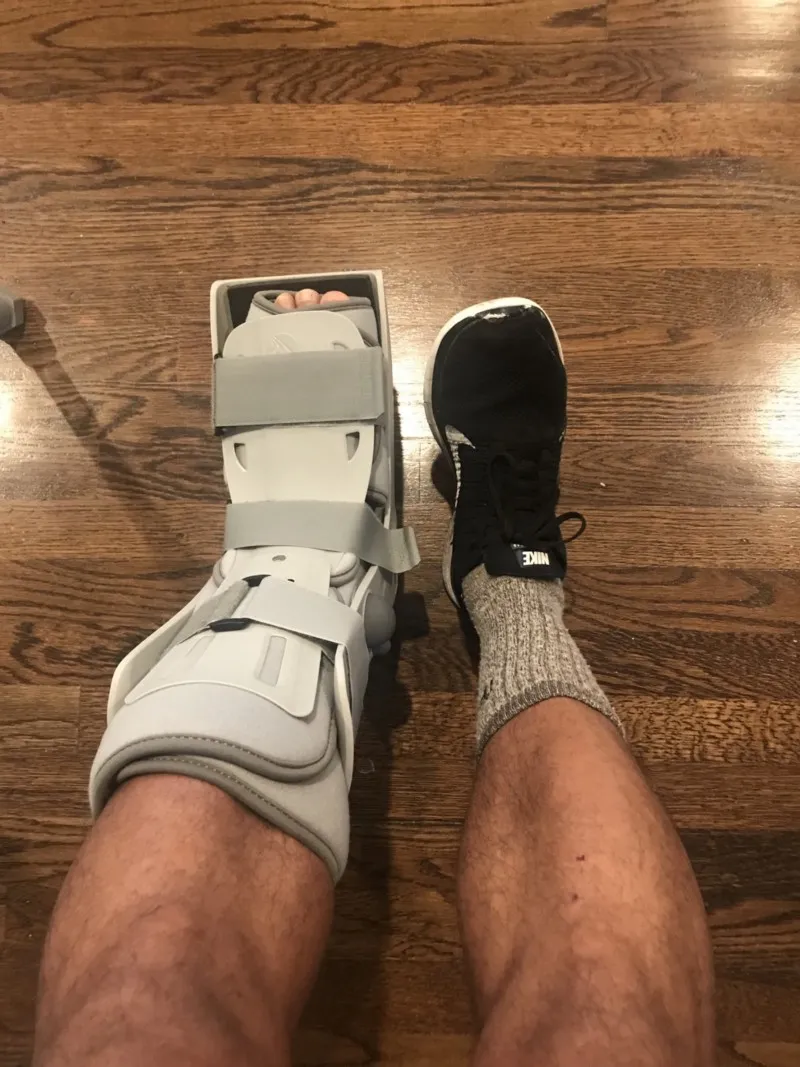 I tore my Achilles
Because having a baby, moving across the country, buying a house, changing jobs, and getting accepted into an online master's program in computer science all in 2018 wasn't enough, I managed to tear my Achilles tendon to start off 2019. And it SUCKED!
I tore my left Achilles tendon while playing pickup soccer on January 16, 2019. Surgery two weeks later, then two weeks in a cast, and the next eight weeks in a boot. I was on crutches for about nine weeks total and it was twelve weeks after the tear before I felt comfortable going out of the house without my crutches or a boot. I then spent the rest of the year doing physical therapy and slowly building up my strength. (I've honestly only felt fully recovered as of April 2020.)
I'm grateful I healed without complications and that my job wasn't disrupted too much, but this was a major injury and I spent a ton of time dealing with it. I've also been processing the fact that my identity as a soccer player is rapidly fading. I've played soccer since I was 5 and it has led to an incredible amount of joy, pride, and friendship in my life. Soccer was supposed to be my way to get back in shape (after stress eating through my wife's intense pregnancy in 2018) and make new friends in Atlanta.
Social Life
I've been blessed to have a number of folks–complete strangers and friends of friends–reach out hoping to get to know me better as I got settled here in Atlanta. But between work, parenting, supporting my wife (see below), and seeing family, I haven't been prioritizing making new friends in Atlanta as much as I'd like. This is definitely the area in my life that has taken the biggest hit over the last few years and a major injury made it even harder to put myself out there. A new friend invited me to sit courtside at a Hawks game last year. I declined because I didn't want to deal with navigating a packed stadium on crutches. I've also been struggling to stay in touch with friends I've had for decades so it feels strange to prioritize spending time with new friends. Maybe this is just life as a new parent with a demanding job. I plan to make some changes here in 2020.
My Wife Got her PhD!
My wife took a break from working on her PhD for most of 2018 as she dealt with a gnarly pregnancy but she successfully defended–while working a full-time job–in December! She's an incredibly smart, resilient, and curious person who inspires me every day! I'm glad our daughter has such an amazing role model.
Nugget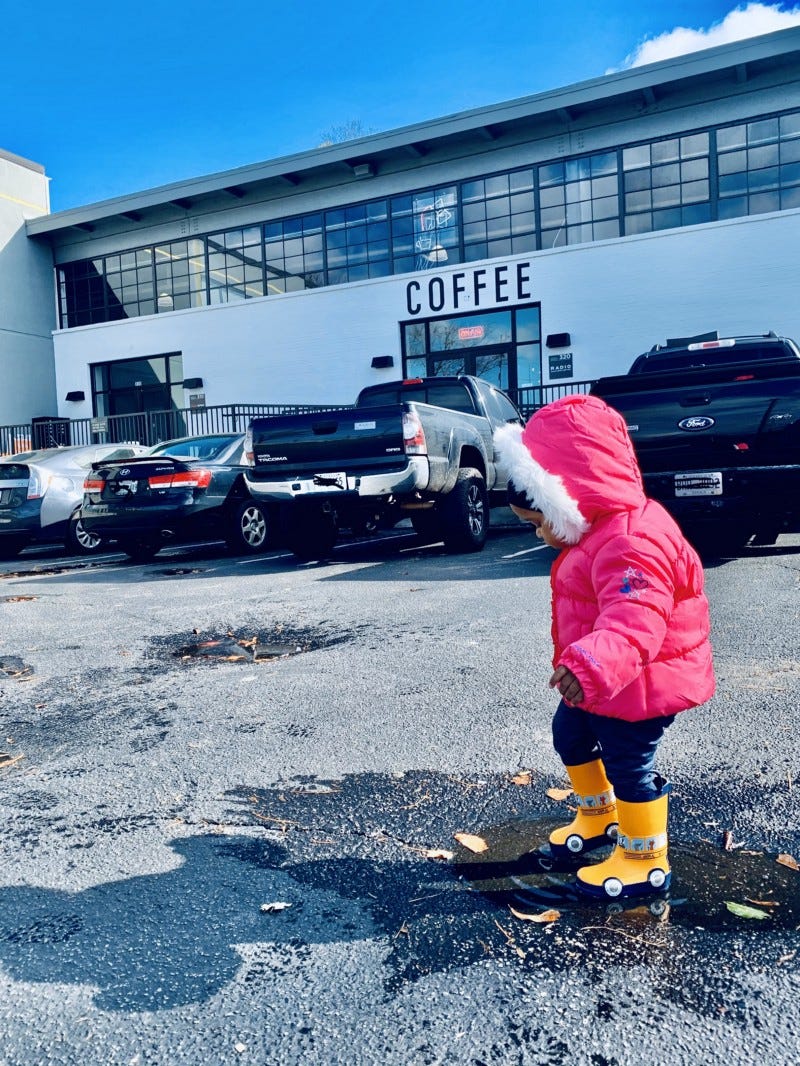 My wife focusing on her PhD meant my daughter and I got out of the house as much as possible on the weekends, resulting in lots of father-daughter outings–LOTS of coffee shops! My daughter's also been traveling with us quite a bit. We took her to see family in Tucson, AZ and Baton Rouge, LA, and took her back to Oakland to see some friends. She even took her first international trip to Colombia in November.
She's been going through all of the expected milestones: standing, walking, etc, but the thing that's blown me away has been her verbal development. It's so much fun being able to interact with her more and more as she grows.
Finix
2019 was a breakout year for the company. We raised over $60M, went from 20 to 70 employees, and grew our payments volume 20x. It's been a ton of fun but also very challenging. I had to get used to working remotely, managing a team again, and taking over the company's marketing/communications function, which is brand new to me. I'm loving it though and feel a sense of curiosity mixed with accomplishment that I reminds me of why I got into startups in the first place.
Misc.
I missed the Last Black Man in San Francisco premiere in SF but got to catch it (and see my name in the credits!) on a work trip to NYC. It was beautiful and heartwarming. I still listen to the soundtrack on repeat.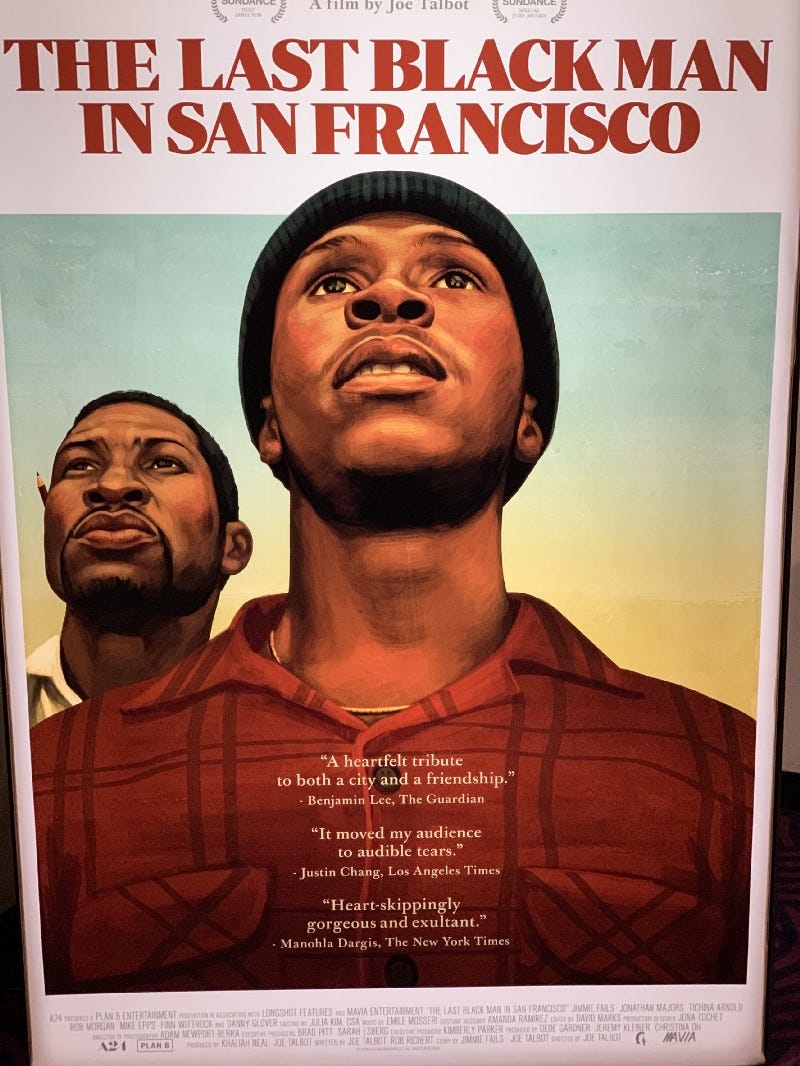 Pinterest (my former employer) IPO'd in April 2019. I've never worked at a company that went through something like this and it was fun to see the event–both in SF and NYC–go down via my social media feeds.
I bought my first-ever Christmas tree. My daughter and I were so excited! I remember driving home from the lot with the tree on the roof of my car, telling my sister how I was turning from a Christmas Grinch into a Mariah Carey-singing Christmas fanatic. Then the tree flew off the roof of my car into traffic. 😬
Health
In 2015, I would routinely get blood pressure readings in the 130/80 range. Now I'm around 120/70. I have had way more stress lately but less anxiety. Quitting drinking, adding CBD to my nighttime routine, and prioritizing sleep (as much as you can with an infant) is likely the biggest factor.
Aside from that my 2019 health concerns were all focused on recovering from the Achilles rupture. Even after I was off crutches and out of the boot, my body was incredibly unbalanced and I had to relearn to run, jump, and even stand evenly.
Soccer
Physical Therapy
Steps
2015: 7,765 daily average
2016: 6,909
2017: 6,285
2018: 5,672
2019: 3,694
Blood pressure:
January: 120/70
June: 122/68
Sleep
In-bed average: 7hr 34min
Coffee
My home setup:
Kalita ceramic coffee dripper
Melitta #2 filters
My pour-over recipe:
Water temp: 204˚F
Grind size: 18–20 on Virtuoso
Mass: 20–22g
Bloom: 15–30 sec
Extraction time: ??? stopped measuring
Drinking
I had a few drinks around Christmas and New Year (i.e. a friend was pouring 25-year-old scotch at a Christmas party so I had a sip) but still essentially not drinking. If anyone is looking for a great low-alcohol IPA, I highly recommend Brewdog's Nanny State IPA. IPU:50, ABV: >0.5%.
Travel
I took 28 trips to 20 cities in 16 states in 3 countries.
New York City, NY 4x
Cincinnati, OH 4x
Denver, CO 3x
San Francisco, CA 2x
Philadelphia, PA
Tucson / Phoenix, AZ
Washington, D.C.
Cleveland, OH
Des Moines, IA
Oakland, CA
Miami, FL
Chicago, IL
Columbia, SC
Indianapolis, IN
Louisville, KY
Boca Raton, FL
Port Allen, LA
Toronto, CAN
Cartegena, COL
Notably, I didn't go on a backpacking trip this year, which is the first time since 2014, I haven't made it out to backcountry.
Media
I watched a lot more TV/movies this year than I have in the past few years. Much of this was when I was bed ridden after my Achilles surgery and the rest of it was when my daughter would fall asleep on my chest and I ended up stuck under a baby for two hours. This happened a lot in 2019. There are worse things. :-)
A few media recommendations:
TV/Movies
Spider-Man: Into the Spider-Verse
Fleabag S2
The Last Black Man in San Francisco
When They See Us
The Boys S1
Watchmen S1
Music
Gesaffelstein — Novo Sonic System
Little Brother — May the Lord Watch
Emile Mosseri — The Last Black Man in San Francisco (Original Motion Picture Soundtrack)
Jidenna — 85 to Africa
Books
Color of Money (Mehrsa Baradaran)
Rich People Problems (Kevin Kwan)
Graphic Novels/Comic Books
Saga Volume 9 (Brian K Vaughan, Fiona Staples)
Fairlady (Brian Schirmer, Claudia Balboni)
Longform Articles
How To Be Successful — Sam Altman
Live Events
Sports
Atlanta United vs. Red Bulls (Major League Soccer)
Concerts
None 😢
Hope you're having a great 2020!